Flood Prevention Gate by Tachibana

26 Aug
0 Comment(s)
1653 View(s)
During Severe Tropical Storm Higos/ 海高斯 (Aug 16-20, 2020), our clients throughout Hong Kong deployed our proprietary floodgate as a preventative measure to flooding from storm surge and sea water back flow.

Although no severe flooding was reported, we received positive feedback on the quick deployment and our fool-proof locking mechanism.

Tachibana Engineering (Hong Kong) Limited first supplied this product in year 2002. Our products endured the force of nature brought on by Typoon Hato and Mangkut, it was proven to successfully prevent flooding in both events in one of the transformer sub-station near Ting Kau coast.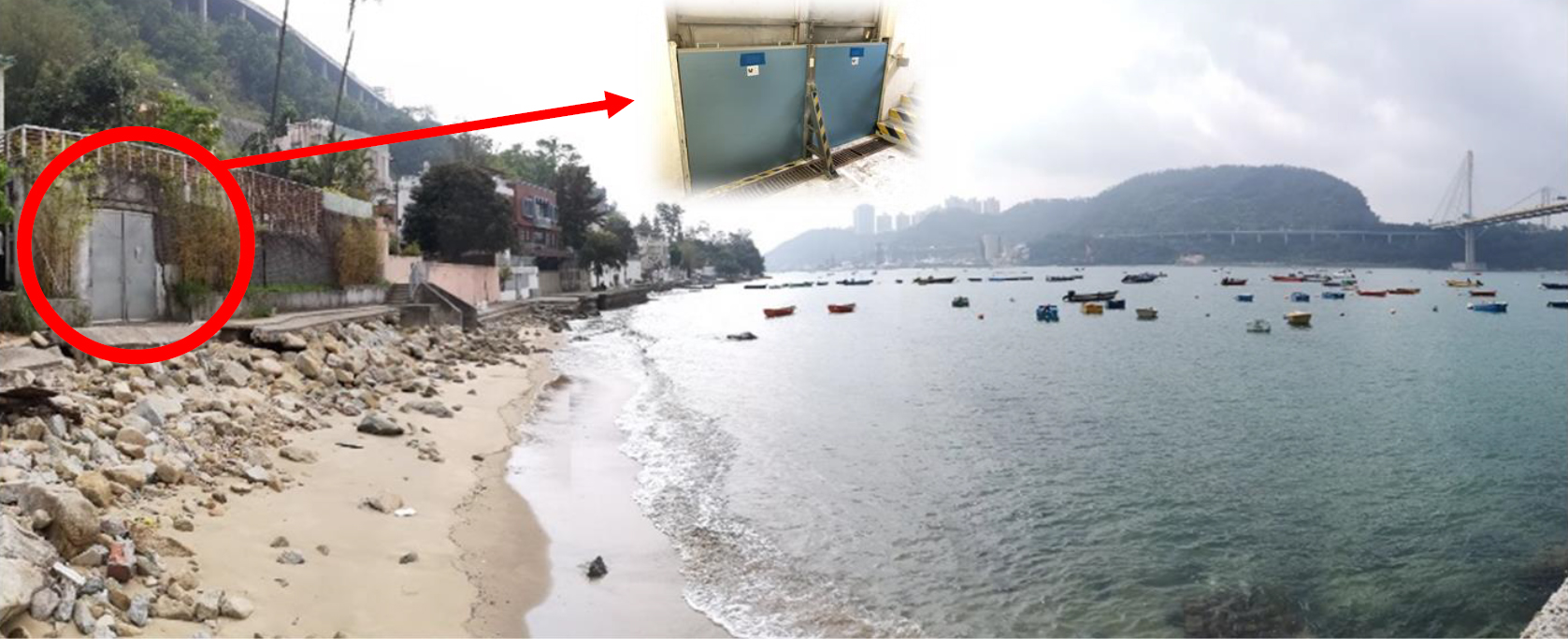 Our Service

Q: What is an appropriate height of floodgate system?
A: Depends on historical data during super typhoons, as well as referencing guidelines set by CLP.
Q: How is the floodgate operated? And how long does it take to install?
A: With side insertion, minimal lifting is required, and turning of locks 90 degrees. Approx. 0.5-1 minute.
Q: Where should the floodgate be installed?
A: Normally at the highest point relative to sea level. Or entrances of electrical switch rooms, pump rooms.
Q: Does it prevent flooding? What is unique about our design?
A: Most floodgates will comply with PAS1188 standard which allows leakage. Our one-piece design will have close to zero leakage.
Q: What materials are used to manufacture the floodgate?
A: Stainless Steel 316 for U-channel and extruded aluminium and honeycomb panel.
Q: Tell me about testing and commissioning on site.
A: We test all our installation with water spray method.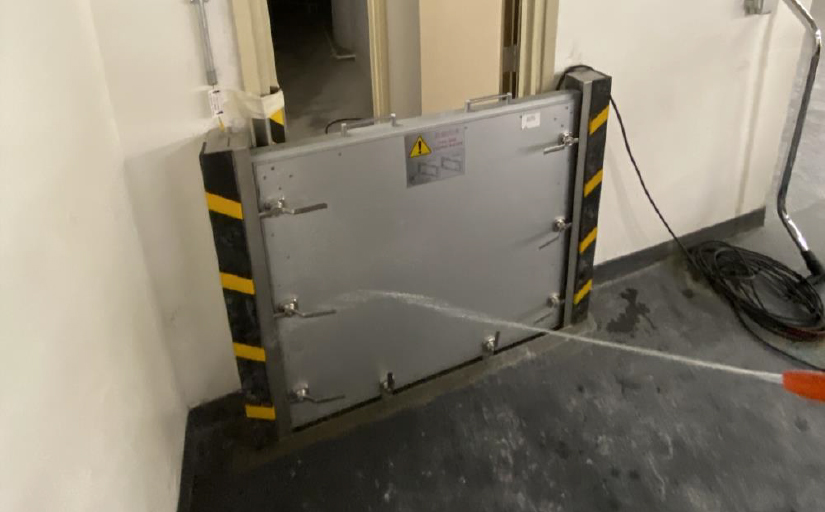 Floodgate undergoing water spray water test. We test all of our installations for leakage as each installation is unique. Type testing has been done at factory under witness by HKOLAS laboratory. Our installation is done by professionals and works are meticulous and detailed.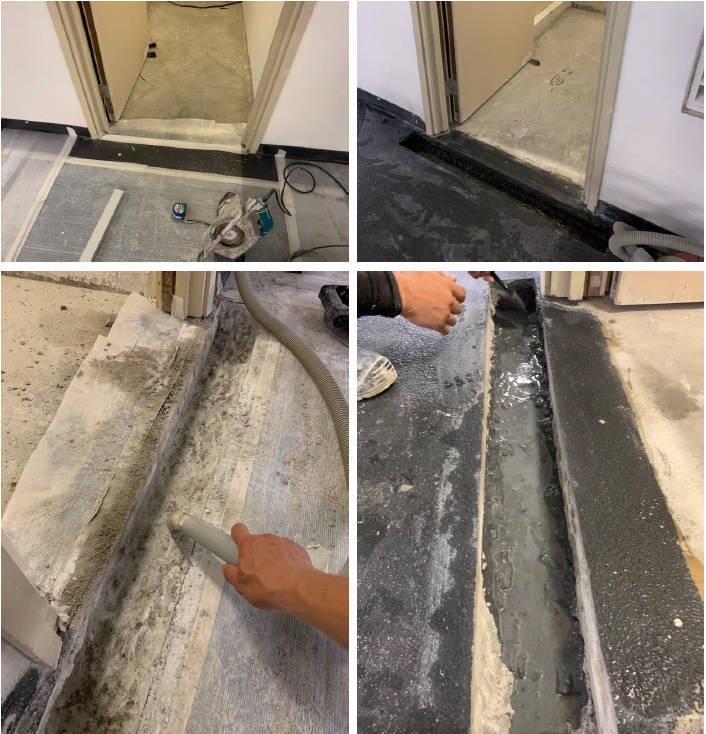 One of the floodgate installed at an outdoor location to protect a lift for disabled persons. This installation is the most challenging out of 32 total nos. installed at Solaria. Effective drainage solution was developed to drain directly into the nearby channel. Final finishes were applied after our installation to make good of our works.

Material: ‧
Embedded U-Channel: Stainless Steel Grade 316 ‧
Mullion: Stainless Steel Grade 316 ‧
Floodgate Panel: Frame made of Aluminium Alloy 6063-T5, and Panel made of Aluminium Alloy 3003, anodized finish ‧
Sealing Gasket: EPDM ‧
Handle: Zinc Alloy ‧
Quick-Action Lock: Stainless Steel Grade 316
Installation Hardware: ‧
Stainless Steel Grade 304 or higher anchor bolt ‧ Screws of Stainless Steel Grade 316 ‧
Sealant: Weatherproofing sealant for most applications ‧
Labelling with installation instructions and position on each panel
Storage:
Protect materials from exposure to direct sunlight
Panels shall be stored in a ventilated, weather-tight location